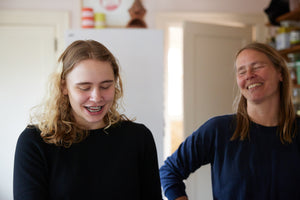 Sarah Minnick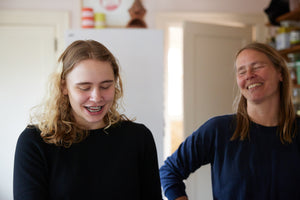 La Cocina showcases women we admire and their kitchens. Part photo essay, part interview, all admiration.
MADRE's La Cocina episodes were dreamt up by Shay years ago, and came to fruition in 2021 as we longed for friends' kitchens during pandemic times. La Cocina episodes visit with friends of MADRE in their kitchens as they cook a meal. Over conversation and cooking smells, our photographer Zoe Ching acts as a "fly on the wall," seeking to capture the essence of the meal, the mood and uniqueness of the subject, and the spirit of their kitchen: the heart of the home. Instead of perfection and portraiture, La Cocina episodes aim to share good vibes, nuance, and a much adored recipe. We then pair the photos with answers to some of the following interview questions, to create a finished episode that is both story and imagery. Our goal is to make art and cherish the people and the foods they love.


HERE IS OUR NEW EPISODE OF LA COCINA, A CONVERSATION WITH SARAH MINNICK.
MADRE is so grateful and excited to share our La Cocina with Sarah Minnick. Sarah is the magical chef of Lovely's FiftyFifty, a Portland gem that specializes in ice cream and pizza. Lovely's is one of Jeanie's favorite restaurants ever (ever!), and both Shay and Jeanie were so delighted to meet Sarah in person and spend the afternoon in her sweet, sweet home. Sarah's kitchen is filled with ceramic art and thoughtful spaces. Sarah's reverence for food and art is palatable, and our afternoon was filled with enchanting conversations that didn't shy away from difficult topics. We left feeling like we gained a lovely new friend. 
Enjoy enjoy
Sarah
's kitchen, her delicious recipe, and her thoughtful responses to MADRE's questions. 
Recipe/meal made during photo session:
Spaghetti with Purple Sprouting Broccoli, Green Garlic & Reggiano


Please describe your kitchen:
I remodeled my kitchen to be the simplest, most functional room in the house. In our tiny kitchen we have a table that fits 6, a smart induction stove, an old 3 legged butcher block, pantry shelving & open shelves to display my ceramics collection which we use and eat on daily. I don't have many appliances and no dishwasher. I like doing dishes by hand. I can cook large meals & spend hours here. It's very easy and functional. 
What's your style of cooking? 
My favorite style of cooking is 'No Fuss.' I would much rather spend time at the table with friends or family than worry about cooking an impressive meal. I always cook with seasonal vegetables and incorporate them into the main course, which is probably pasta. I also like simple salads served at the end of dinner, and an easy dessert like rice pudding or a rustic cake.


We all have our tried and true meals. What is your:
"I can't be bothered" meal?
Brown rice & brassicas
"I want to feel comfy" meal?
Lasagne!
"Nutrition-focused" meal?
Brothy beans & garlicky greens. Egg on top is good. 

Favorite celebration meal?
Eating out at Luce :)

Favorite take out meal?
We love veggie tacos from Por Que No.


What is your all-time favorite meal, where did you eat it, and with whom?
My all time favorite meal was eaten with my friend Lane in Antillo, Sicily. The town is her ancestral home, and there is a restaurant there that serves pizza, whole grain bread, hand made pasta & gorgeous vegetable antipasti. 


Who taught you to cook? What was the first food you ever made? 
I am self taught but I've worked with tons of talented chefs. I worked with cooks in restaurants for many years as the front of house component, and developed a palate by tasting the menu everyday. After that I was able to cook to achieve the dishes I liked the most which are simple and seasonal. 
In middle school someone gave me The Vegetarian Epicure and the first thing I made was Potato Leek Soup. 
We love how food can travel through our lineages. Are there things you love to cook that have been passed down from generation to generation?
My mom's side of the family always made cinnamon rolls from a great Betty Crocker Cookbook we had when we were growing up. It was the only cookbook in the house! But it had a recipe for everything. 


What ingredients/staples do you always have stocked in your pantry and/or fridge?
Koda Farms brown rice, dried Oregon beans, oddball Italian dried pasta with different whole grains, lots of olive oil & sea salt.


Meal plan or wing it?
Wing it! Keep it simple.


Recipe hunting: where do you enjoy finding recipes? Online? Cookbooks? Which are your go to cookbooks?
I love recipes from the New York Times. My favorite cookbooks are: Chez Panisse Vegetables, Twelve Recipes by Cal Peternell, Good to the Grain by Kim Boyce, both Pasta Grannies cookbooks, and anything from David Tania or Deborah Madison.
What is your most well-loved cooking utensil?
I love my Gold Kunz spoon for plating & serving.


Doing the dishes: soothing or annoying? What's your relationship to dish washing?
Incredibly soothing. I do all my dishes by hand and I'm fast and very good at it. 


What is the kitchen task you most dread? 
I don't think I dread any tasks. Cooking is relaxing & satisfying, except on holidays! Too much pressure. 


What has your relationship been with food over time, has it changed? If motherhood is a part of your story, how did becoming a mother impact your relationship with food?
Although I've owned restaurants for over 18 years, I didn't cook professionally until about 14 years ago. I had to teach myself so I poured over cookbooks and cooked any recipe that inspired me. I worked with many talented cooks over the years and I gleaned everything they had to offer, honed my palate, and paid attention. Over time I'm much more confident and adept at cooking exactly what I want.

As a mom I worry about my kids' food preferences when they are picky. I feel responsible if they don't want to eat their vegetables. But — they never cease to amaze me — the other night my son ate a huge piece of spinach lasagne that was dripping with greens & bechamel, it was a win.


Are you pro kids in the kitchen? Or do you prefer to cook alone? What meal/food do your children most request?
I love cooking with my kids but I really have to let go of predisposed ideas of how things 'should' be done. It's easy to try to micromanage them and take it too seriously. I try to let it flow and enjoy. 


What do you gift to friends who love to cook?
A little box of Spanish olive oil with a pour spout. We all need more olive oil! 


Whose kitchen is your favorite/inspires you most?
So many of my friends have gorgeous kitchens. My favorites include my friends Lane & Eloise — their kitchens are reflections of them. 
 
Artists that inspire you, why and in what way?
Ceramic artists inspire me very much. It's such a pleasure to make food and serve them on beautiful things. I love Ginny Simms and Dina No.


Would you rather cook or be cooked for? Do you prefer to host or be a guest?
I love hosting. I think it's very fun to cook a seasonal meal using gorgeous napkins & ceramics. 


Whose cooking makes you feel the coziest and most cared for?
I love it when my partner Harrell cooks for me. He's one of the best cooks I know — he has a CSA and cooks beautiful vegetarian meals that are no fuss & always nourishing & thoughtful. 


MADRE's tagline is We all eat. We all rest. We've asked a lot about eating, so how do you build rest into your day/week/month?
Lately I've been taking more nights off to spend with my kids. I've also been reading more books, taking naps, long walks, and I'm lucky enough to spend time at the Oregon Coast with my partner Harrell at his house in Ecola State Park. For the first time in my life I am resting enough. 
Here is Sarah's lunch recipes.
¡Gracias Sarah!
To find more about Sarah:
@sarahminnick_
Lovely's FiftyFifty
Photographs by
Zoe Ching