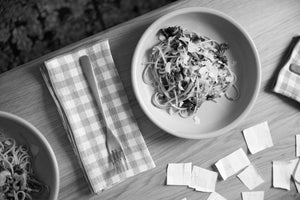 Lunch with Sarah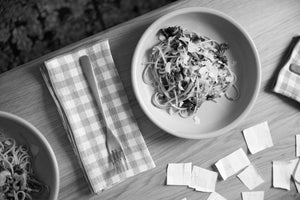 PURPLE SPROUTING BROCCOLI & GREEN GARLIC FUSILLONI

The buttery richness of purple sprouting broccoli and the sharp sweetness of green garlic defy the simplicity of this pasta. Monograno fusilloni is my favorite choice for this dish; the ancient-grain Italian pasta complements the spring vegetables perfectly.
Ingredients
Makes 4-6 servings. Cook time 20 minutes.
1 bunch green garlic, with tender greens attached (about 5 pieces)
2 bunches purple sprouting broccoli, including tender stems (about 1 pound)
1⁄4 cup olive oil, plus more if needed
Chile flakes
Sea salt
1 anchovy filet, preferably oil-packed
1 cup white wine
1 pound dry pasta, such as monograno fusilloni, fusilli, or penne
5 tablespoons butter
Parmigiano-reggiano, bread crumbs, or additional chile flakes for garnish

How To
Chop the green garlic bulbs into 1⁄4-inch slices, then go to 1⁄2-inch slices when you hit the green stems. Starting at the stems, cut the broccoli on the bias until you get to the flowers, leaving the tips intact.

Bring a large pot of salted pasta water to a boil. Heat a 12-inch skillet over medium heat and add the olive oil. Sauté the anchovy and break it up into little pieces. Add the chile flakes and
cook a little more. Then add the green garlic and a pinch of salt and cook for another minute.

Add the broccoli and another pinch of salt, then turn the heat up slightly. Sauté, stirring constantly for 3 to 4 minutes until everything softens a little, but don't let the vegetables brown.

Add a little more olive oil and a splash of water if needed to prevent this, then add the white wine. Put the pasta in the pot and continue cooking the vegetables so some of the wine evaporates.

Before the pasta is done, stir a couple of ladles full of pasta water into the
vegetables. Evenly dollop the butter in the pan, let it melt, then stir and swirl to emulsify the sauce.

Taste and add more salt if needed. Drain the noodles, reserving some water in case you need more.

Stir the pasta into the sauce and cook for another minute so it all joins together.

Add more pasta water if necessary so the sauce is loose. Garnish with bread crumbs, reggiano, or more chili flakes, as desired, and serve immediately!