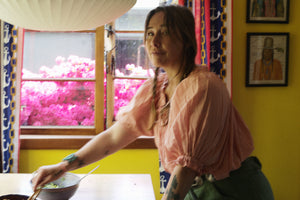 Nikki Fenix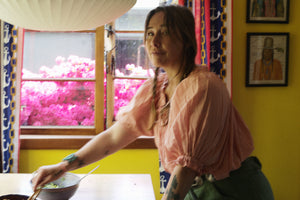 La Cocina showcases women we admire and their kitchens. Part photo essay, part interview, all admiration.
Here is our new episode of La Cocina, a conversation with Nikki Fenix.
Please describe your kitchen. 
Its full of loving, vibrant, open, colorful - heavy on music + jokes. Central are great windows to the garden which is full of trees. My walls are yellow + green, most of the ceramic bowls + plates I have made,  there is friends and art around + a tropical plant installation looms above. We eat in a lovely corner booth our departed friend, a sculpture, built lovingly with his hands, also my artist husband Jonny who has unique vision made our kitchen (by made I mean did everything- knocked out a wall, made the live edge shelves from one tree, did it all!) It was designed around a new old stock 1970's orange sink we found thrifting long before we renovated.
What's your style of cooking? Do you taste as you go? Do you like snacking/drinking while cooking? What is the soundtrack to your cooking? 
Shoes off, a  glass of red, potato chips + olives to snack on. Lou Reed, Nina Simone, The Beatles, Junior Kimbrough, Leonard Cohen, The Doors. Little Bob + The Lollipops on the stereo. Singing, maybe some dance moves, best when pretty light is streaming in and my girls are chatting with me on the counter, my dog Merle takes his spot on the couch to watch. 
We all have our tried and true meals. What is your...
"I can't be bothered" meal?
Pizza + salad, breakfast for dinner. 

"I want to feel comfy" meal?
Crockpot chili bowls with all the additions - guacamole, shredded lettuce, onion + cilantro, homemade corn chips, sour cream + Valentina's or Minestrone.
"Nutrition-focused" meal?
Kichari or a big salad - I have an expansive salad repertoire!
Celebration meal? 
Potato Gratin, and a selection of epic salads + champagne! Or a lemon + garlic roast chicken with my fave kale salad and roasted  potatoes, key lime pie for dessert or chocolate + fresh strawberries.
Favorite take out meal?
Thai or Chinese.
Portland restaurants you've missed most during COVID?
Ava Genes, Tusk, Expatriate bar food.
What is your all-time favorite meal, where did you eat it, and with whom?
Ooh so hard to choose but I'll name some top moments. In my summer garden under the persimmon and apple trees, with lace table cloths, pink wine glasses, blankets and cushions strewn across the grass, good music playing, my friends laughing + telling stories, bbq or tacos, lots of different salads made directly out of my veggie garden. Long, slow lunches in Italy, picture perfect moments eating pasta dishes that make you wanna cry, it's so good + the view so pretty or with my Aussie mates by the sea, lounging on sun decks in bikinis eating fresh prawns with crisp rose. Sunday roasts with my mum.
Who taught you to cook? What was the first food you ever made? 
I think I really taught myself but I was influenced by a few things. I spent time in the kitchen with my grandmothers, did some cooking classes at school, grew up in an Italian neighborhood where good food was dominant and my dad took us out to restaurants often as kids which was unusual back then. I had Italian, Lebanese, Turkish and French boyfriends- their mums were ALL great cooks and loved to feed me. I went on to work in restaurants for a while and  hung out with food obsessed chefs + kitchen staff.
 I remember at 12 learning in home economics class how to make a cooked breakfast with perfect eggs, bacon, beans on toast and the "plat de resistance" a zigzag cut cooked tomato!! (Ha so fancy, so English !) I made breakfast that weekend for my family, eager to impress. 
We love how food can travel through our lineages. Are there things you love to cook that have been passed down from generation to generation?
A classic Sunday roast dinner, again, so British! Also PAVLOVA,  one's pav is a very personal thing.
Food shopping can be a drag or a dream; where is your favorite spot to gather ingredients?
I love a good farmers market. The local markets in France and exotic places where the people, sounds and smells are divinely rich and textured like Marrakech, Turkey, The Dominican Republic, Thailand, Africa, and  New Seasons is pretty lovely too.
What ingredients/staples do you always have stocked in your pantry and/or fridge?
Good olive oil, flaky sea salt, sriracha, soy sauce , garlic, olives, ginger, parmigiano reggiano. My spice cupboard is packed and quite special.
Meal plan or wing it?
A mix of both but I often free style.

Recipe hunting: where do you enjoy finding recipes? Online? Cookbooks? Which are your go to cookbooks?
I do like the new generation of cooks on Instagram, it's definitely fast, simple and a lot of vegan which is my style these days. I love to be creative and make different things but I don't want to spend hours in the kitchen prepping. I love Joshua McFadden's Six Seasons.
Doing the dishes: soothing or annoying? What's your relationship to dish washing?
I just do it, I hate dirty dishes lying around and I like to clean as I go when cooking.  
What is the kitchen task you most dread?
Scrubbing an impossibly caked baking dish. Luckily Jonny always does that for me. I seem to be the only one in my house who empties the dishwasher? Which is a drag and something I like to complain about.
What has your relationship been with food over time, has it changed? If motherhood is a part of your story, how did becoming a mother impact your relationship with food?
I used to eat out all the time! As a mother  I became very focused on clean, healthy, nourishing food for myself and my family and we mostly eat a vegetarian diet. I do think the ritual and comfort of meals together at home is very important, it's central to family life and daily connection. I have always had great dinner parties and still love to have friends around to eat as much as possible.
Are you pro kids in the kitchen? Or do you prefer to cook alone? What meal/food do your children most request?
I love to cook with my kids and my husband, we all chip in and/or take turns. My daughter Brave and I love to try making different, new recipes together and my youngest True and I have had a ritual of making Sunday brunch for the family or baking something special.   
Who would be on your imaginary dinner party guest list?
Muhammad Ali, Maya Angelou, Frida Khalo, Albert Einstein, Diane Arbus, Charles Bukowski, David Bowie, Patti Smith, Deepak Choprah, Gloria Steinman, Leonard Cohen, Dolly Parton and Jane Fonda. My husband Jonny + my friends Shiloh,  Amanda, George and my girls Brave + True.
Whose kitchen is your favorite/inspires you most?
Most kitchens I find boring. I admire Frank Lyod Wright designed kitchens. The douglas fir clad cozy kitchen of Anais Nin's in her Silverlake home designed by his grandson Eric is wonderful. Flamingo Estates, old school + Moroccan style. But I really aspire to the kitchens I see in French films in the countryside or villas in Italy, Spain, old, lots of stone, sun streaming in, colorful + patterned tiles, couches in kitchens + big wooden tables under citrus trees or looking out to the ocean. I love kitchens that are like lounge rooms.
What books have inspired you most regarding cooking/eating?
Ibiza Bohemia. The Private World of Yves Saint Laurant and Pierre Berg. Shelter, How Australians Live. Caribbean Style. Mary Oliver Devotions. Linda McCartney, A Life in Photographs - these books have inspired me more in the spirit and style of living, a way of being in the world and my cooking and eating is just an extension of that.
Artists that inspire you, why and in what way?
Georgia O'Keeffe for her elegance and exacting eye. Frida Kahlo, a bold woman, living in color + her unique style. Diane Arbus, truth seeking. Mary Oliver for her connection and reverence for nature. Yves Saint Laurent for his taste + style. Miles Davis for his talent. Keith Richards for his authentic fuck you sense of self.
Would you rather cook or be cooked for? Do you prefer to host or be a guest? 
I love it all.
Whose cooking makes you feel the coziest and most cared for? 
My husband Jonny is a very creative cook and can whip up soul food at any moment. My best friend in Oz, Claire, though we met in the fashion world, is a trained chef and has for years thrown me very glamorous dinner parties and chic long lunches with the best spreads when I'm home. My pals Joanna Bean Martin + Marissa Mercer are both wonderful cooks and "hostesses with the mostesses".  I also love my mum's perfect roast pork with crackling.  
MADRE's tagline is We all eat. We all rest. We've asked a lot about eating, so how do you build rest into your day/week/month?
I meditate daily. I take naps. I walk in Mt. Tabor most days and connect with nature obsessively. I read in favorite chair in a  patch of light. I float in a body of water whenever I can. I snuggle my little dog Merle + my girls often. I love to sleep-in on the weekend, some Sundays I believe, are for staying in bed!
.
Here are Nikki's lunch recipes.
¡Gracias Nikki! 
To find more about Nikki:
@nikkifenix
Nikki Fenix
Photographs by Naz Sahin:
@nazsahin