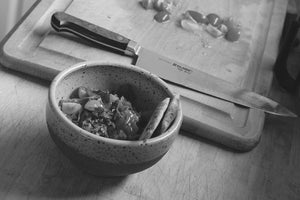 Sadie's Ful Medames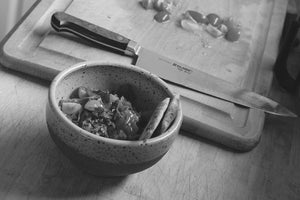 Here is a recipe for Ful Medames Sadie cooked for us during our La Cocina shoot.
Ful Medames (Egyptian Fava Beans)
For Two or Double 
There are many variations to this spectacular, hearty dish.  Do as you please.   
Part I | Garnish
Green Chili of your choice (of heat), diced
(Leave seeds or not depending on heat level preference)
2 large garlic cloves, diced
Lemon juice
Blend in food processor to create consistency of salsa.
Part II
16 oz can of fava beans
Scallions
Garlic cloves
Handful of cilantro
Handful of parsley
EVOO
Lemons (Meyers for extra brightness)
1 small tomato, chopped (When out of season, maybe roast them in the oven with evoo and salt or skip altogether)
Maldon salt
Pepper
Cumin
Paprika (I used Fermented Paprika from Wild Roots Farm for intensity of flavor!)
Controne Hot Pepper (I like extra heat.)
Mince scallions & onion.
Drain favas from can and rinse.
Preheat your Sauce Pot/Dutch Oven. 
Over medium heat sauté minced green onion + garlic in EVOO.
Add favas.
Add spice.
Add 1 cup water.
Reduce.
Smash favas while reducing or blend a portion and marry.
Once reduced and flavors are married, add lemon juice and parsley/cilantro and thoroughly mix.
Transfer to serving dish.
Drizzle with Part I garnish.
Drizzle with LOTS of EVOO.
Garnish with tomato.
Depending on preference and serving size you are presenting, garnish with chopped items from above.
Part III | Flat Bread

Bake til your heart's content or buy ready made (I do).
Brush with olive oil.
Toast in oven.
Cut into wedges.
Garnish your Ful Medames.
Note
The first time I enjoyed this dish was not in Egypt, nor in Lebanon.  It was in the PNW, at the no longer, Sitka and Spruce over brunch.  I have prepared this dish for a few home-made brunches with friends, it is one that is consistently asked about after.  One day I hope to enjoy abroad.  
¡Gracias Sadie!