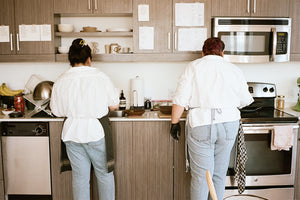 Maria Querida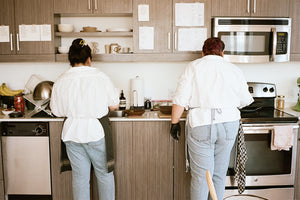 La Cocina showcases women we admire and their kitchens. Part photo essay, part interview, all admiration.
Here is our new episode of La Cocina, a conversation with Maria Querida.
It is such a pleasure to introduce our newest guests of LA COCINA, please meet sisters 
Ana
 & 
Alba
 of the lovely dinner pop-up Maria Querida. I met 
Alba
 years ago over napkins when I was still a solopreneur running NPG. We connected over design but also being Mexican. I have loved watching Alba over the years in all her thoughtful design pursuits — she imbues her work with such warm serenity and intention. When I learned of Alba's collaboration with her chef sister, Ana, I knew we had to sit with them. I am so inspired by and admire the way they bring their complementary art forms together to create a beautiful experience. And naturally, I love the way they are weaving their heritage and ancestors into their work — the amor and historia they pour into it all is palpable. Please pour yourself a favorite beverage to sip and sit down for a visit with these truly lovely hermanas.
Please describe your kitchen.
Alba: Chaotic. María was sort of born in this kitchen and although I personally don't cook a lot of complex meals, whenever Ana is in town and María is in full swing, this kitchen feels like beautiful chaos. An explosion of utensils, ingredients, flavors. It feels personal and foreign all the same. 
Ana: Yeah, chaotic and a place for creativity and daydreaming are accurate!
What's your style of cooking? Do you taste as you go? Do you like snacking/drinking while cooking?
Alba: I like making meals that take me all of an hour to put on the table, particularly when it's a busy season at work. I honestly, sadly, don't do justice to the art of cooking. If I'm not too tired at the end of the day, I'll pour myself a glass of wine and sip as I cook–this happens more often in the fall/winter, there's nothing like chopping vegetables for a stew while you sip on a glass of gamay! 
Ana: Right now I would define my cooking as experimental, based in what I know from traditional Mexican cuisine mixed with what's seasonally available. Having the chance to cook seasonal food has opened my eyes beyond traditional cooking and to what you can achieve when you have both a rich culinary culture and access to great seasonal produce. 
We all have our tried and true meals. What is your...
"I can't be bothered" meal?
Alba: A bake-at-home pizza from Renata!
Ana: Having worked in restaurants and experienced that lifestyle, I am ashamed to say that plenty of my meals could fall in this category, but my all time favorite will always be a good NY style pepperoni pizza.
"I want to feel comfy" meal?
Alba: I love taking the time to make coq au vin in the fall/winter and then have it for a few days!
Ana: I get this from my mom, I love to have soup whenever I need warmth in my heart! It doesn't matter where I am, soup always makes me feel like I am home.
"Nutrition-focused" meal?
Alba: Chicken or salmon with a salad and a lemon/olive oil dressing.
Ana: Lately I've been finding that nutrition goes beyond what's on our plate, it's more about what nurtures our soul. For me the most nutritious meal is the one that's going to fill your heart as much as your belly. So, different meals and different activities at different moments in life can all have nurturing powers in that sense!
Celebration meal?  
Alba: Since I moved away, Mexican food feels like a celebration! I don't cook a lot of Mexican food at home, so whenever we go visit my family or they visit me, it feels like everyday is a celebration through food! An absolute favorite of mine is enchiladas rojas, I've attempted that one here on my own and it felt quite special (still not as good as my mom's or Ana's!).
Ana: There is no party without cake, it doesn't matter the nature of the celebration, there must always be cake!
Favorite take out meal?
Alba: Poke bowl from Fish & Rice and Nong's Khao Man Gai chicken and rice!
Ana: A good bacon cheese burger is one of those meals that I think can be deeply enjoyed as much at home.
Who taught you to cook? What was the first food you ever made?
Alba: My mom tried so hard to teach me how to cook before I got married but I was adamant not to learn–don't ask me why. Now I have to call her for recipes and Ana has taught me what I know, technique wise.
Ana: I decided to pursue a career in food as a way to find a  deeper relationship with my grandmothers. I grew up hearing how other kids' attachment to their elders happened through food. Since my grandmothers passed when I was very young, I knew that food could be something that brought them back to me in a way. My mom has always had a great hand for cooking even when she doesn't like to admit it, it is an inherent trait and I guess, in a way, I just wanted to know if it would be something that would also be in me. All that to say, there hasn't been a specific person that has intentionally taught me, but I have learned through my mom's knowledge, gotten through her mother and so on. I've always been observant of that and have tried to honor it. 
We love how food can travel through our lineages. Are there things you love to cook that have been passed down from generation to generation?
Alba: I think there are so many recipes for dishes that our family makes in a certain way and although from person to person there are a few tweaks, overall you know that they all started from the same base. Enchiladas and pozole are some of those dishes, for sure! My mom also makes an insanely delicious dried shrimp soup that I haven't attempted myself but it is truly amazing. 
Ana: Carrot cake is a recipe that has been going around in our family for a few years now. It was passed down from a good family friend and so far no one has ever changed a thing through a few generations, it's just perfect the way it is.
Food shopping can be a drag or a dream; where is your favorite spot to gather ingredients?
Alba: Providore and the PSU Farmers Market! Saturday mornings at the market with Ana are a dream and Providore is one of those shops where you can go through the aisles and find treasures you want to take home just to experiment!
Ana: Providore!
What ingredients/staples do you always have stocked in your pantry and/or fridge?
Alba: Tortillas, jalapeños and onions, avocados. Good EVOO, finishing salt, black peppercorns. Honestly, sardines are a must, too. In the fridge there's also always butter and a bag of microgreens.
Ana: For me, Mexican food can't exist without four things: maiz, chile, tomate y cebolla. That's the base for a good tortilla and a great salsa, and Mexican without salsa is not Mexican.
Meal plan or wing it?
Alba: Wing it and it's not ideal because we end up ordering takeout way too often! 
Ana: Meal plan, for sure. 
Recipe hunting: where do you enjoy finding recipes? Online? Cookbooks? Which are your go to cookbooks?
Alba: Call my mom and call Ana.
Ana: I always gather recipes from multiple sources and then try to study them to create my own with what makes most sense to me! 
What is your most well-loved cooking utensil?
Alba: I do not have one…
Ana: A good knife is always appreciated in the kitchen. It's a literal extension of your arm and what is going to make or break your ingredients.
Doing the dishes: soothing or annoying? What's your relationship to dish washing?
Alba: Washing dishes as I cook, very satisfactory. Washing dishes after I eat a meal, annoying! 
Ana: There is nothing more satisfying than knowing the dishes have been properly cleaned. Whenever I want to wind down and I want to make sure the dishes are spotless I have no problem cleaning them myself.
What is the kitchen task you most dread? 
Alba: Finely dicing is the worst, I always feel like I'm not doing it well enough.
Ana: Whatever is repetitive and would take me lon,. i.e. Peeling garlic. I also really dislike spending so much time on planning and making lists, particularly for our pop-ups, but it's just necessary so I get on with it.
What has your relationship been with food over time, has it changed?
Alba: Food in my life went from being a physiological need and something I didn't value enough, to being a source of major inspiration and joy, as well as an avenue to forge closer relationships with family and friends.
Ana: It has changed a lot over the years. At some point in my life I used to approach food from a place of fear and even hate until I understood that it was something I had to work within myself. Making a career in food has definitely made me a more compassionate and understanding person. I think it has made me realize that the relationship I want people to have with the food we are making and with what we are creating has to go beyond eating, it has to be purposeful and intentional. 
Are you pro kids in the kitchen? Or do you prefer to cook alone? 
Ana: I'm not a mother myself but I love to have kids in the kitchen. It is so important for me that young people knows that food is fuel for the mind, body and soul.
What do you gift to friends who love to cook?
Alba: Wine, unless they don't drink. I think a gift card to a restaurant they enjoy is also a great gift. 
Ana: Definitely a good cook book, one that tells a story, not just recipes. Cooks need to understand the source of food.
Who would be on your imaginary dinner party guest list?
Alba: Ah! I would have a table full of our closest family members and every single person that has been so kind and welcoming to María. Those guests include people in Mexico and here in Portland, so that's a tough one, but maybe one day?
Ana: All of our Marias, present and past.
Whose kitchen is your favorite/inspires you most?
Alba: My mom's. I could sit there for hours from the moment she starts cooking for everyone to when she finally sits down to eat and then sobremesa, when we're no longer eating but just talking and talking like we have nothing else to do but to be there in that moment! 
Ana: Meeting Robin at Vivienne has been an experience. Definitely inspired me and made me go back to find a purpose in what I do and why I do it.
Would you rather cook or be cooked for? Do you prefer to host or be a guest?
Alba: I'd rather not take the lead cooking, because I always feel others are better than me. I love hosting and making people cared for in other ways.
Ana: I'd rather cook. I don't generally like to host because I'm an introvert, though. So, I just want to cook and then act like a guest and let someone else be the jovial host! 
Whose cooking makes you feel the coziest and most cared for?
Alba: My mom's.
Ana: My mom's, forever and always. 
MADRE's tagline is We all eat. We all rest. We've asked a lot about eating, so how do you build rest into your day/week/month?
Ana: It might sound odd but tidying up and the scent of a freshly cleaned house is the most comforting way to ensure a good rest! After having a clean home, top it off with a nice meal and a movie after and that's an ideal day.
Alba: I think, for me, there are seasons in life where I can find joy in not stopping and going full force at something and there are others where we are bound to rest, without guilt; it can be a day, a week or several, months even! Personally, there are many ways in which I rest, whether intentionally or not. People watching, looking at photos without a work assignment, drinking a glass of wine after a work day or the first cup of coffee in the morning, meeting friends, etc. I guess the overall feeling is that I rest when I manage to stay present. 
¡Gracias Ana & Alba! 
To find more about Maria Querida:
@mariaquerida_
Photographs by Naz Sahin:
@nazsahin