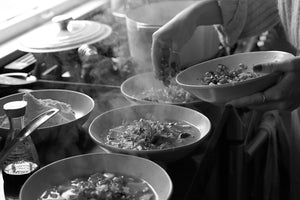 Lunch with Delia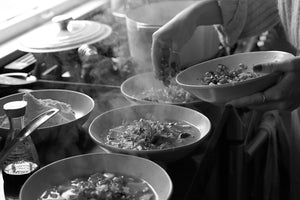 Here is the recipe for the yummy lunch Delia prepared for us during our La Cocina shoot.
Ingredients for Tibetan Thukpa Soup
For the Noodles
3 cups of Unbleached or Wheat Flour
1 egg (can be left out but makes noodles more firm)
11/2 - 2 cups Water
For the Soup
1 lb Beef - cut into thin, bite size pieces
1 Onion , diced
1 inch piece of Ginger, chopped
3-5 cloves Garlic, chopped
1 Tomato, chopped
1 Daikon Radish, cut in quarters
2 tablespoons Soy Sauce
1 bunch of Cilantro 
1 bunch of Green Onions 
Chili Oil (because always)
Soup Base
Brown the beef in a large dutch oven or pot, season with salt and pepper. Once browned, add onions, tomato, ginger and garlic, and cook for 1-2 minutes. Fill the pot with water half way and bring it to a boil. Once it boils, bring the flame down and let it simmer for 30-40 minutes.

While the broth is cooking, you can prepare the dough and cook the daikon (pan fry with a little oil until a bit browned — will be added to soup).


Dough
Put the flour in a large bowl, add one egg and slowly add water. Knead the dough until it is firm. Cut dough into pieces and roll into strips about 1" wide. Add a little oil, and let it sit covered on a plate.

Add soy sauce and cooked daikon to soup. Bring back to a boil. Take dough strips and tear little pieces off using your thumb and index finger, throw directly into soup. Try to do it quickly so they all cook at the same time. Once all dough is used, cover and cook for 1-2 minutes.

Portion soup into bowls and garnish with green onions, cilantro, and of course all the chili oil your heart desires.


¡Gracias Delia!