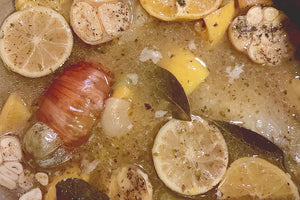 Carnitas de La Casa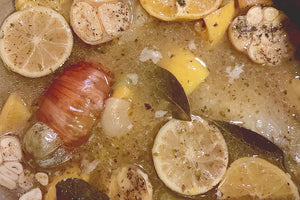 Carnitas de La Casa
Our family loves tacos. Al pastor, carne asada, pollo verde, barbacoa, cochinita pibil, carnitas. You name it, we love them all. Carnitas are our go-to when making tacos at home. An easy weekly meal to add to your menu rotation, the best part always being the leftovers for lunch the next day. We enjoy carnitas tacos with salsa, avocado, cotija, pickled blue onions & cilantro. I recommend the small "taco size" tortillas for perfect enjoyment in 2 or 3 bites. Please find my recipe below. 
Sear a 3-4 lb pork shoulder in a cast iron skillet, first searing the fatty side. 
Rub shoulder generously with a coarse sea salt. Place shoulder in a heavy bottomed dutch oven or clay roasting pot. Nestle around the shoulder 1 yellow onion cut into large pieces; 3 oranges (any variety will do), cut in quarters, juiced squeezed over the meat and then tucked among the onions; 2 heads of garlic cut in half to expose the flower and tucked in; then a lime or two cut in half. Over the top of everything generously add cracked pepper, Mexican oregano, and a few bay leaves. Add a cup and a half of water then cover with lid and place in an oven set at 250º. Allow to cook for 5-6 hours, basting if you desire but also fine to just leave and do its thing. After hours have passed, pull dutch oven from oven and allow meat to rest for 15-30 minutes. Then pull meat from the allium and citrus contents and place on baking sheet. Shred meat using two forks and pulling meat apart to bite size pieces. Ladle a few spoonfuls of the meat drippings over the meat and return pan to a 400º oven for 10-15 minutes until meat is a bit crispy.
Enjoy with loved ones.
Con cariño,
Shay
~~~~~