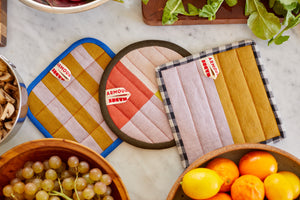 MADRE x ARMOUR Quilted Hot Pads
A Mother's Day 2023 Special!
MADRE has partnered with the exquisite Portland maker, Katie Armour, to make new MADRE goodies (from our offcuts!) for your kitchen. These hot pads make it possible to maneuver around a hot stove and oven in style and safety.
approx. 8"x 8"
Choose from three styles. We only made 12 of each shape, so get yours quick!!