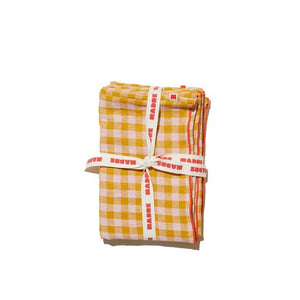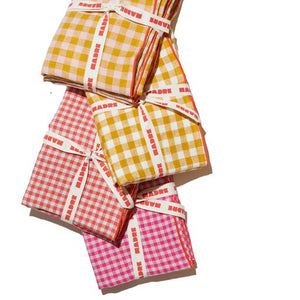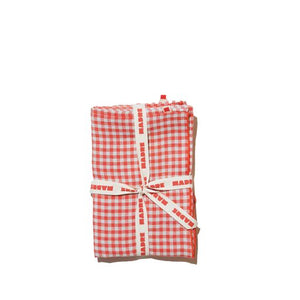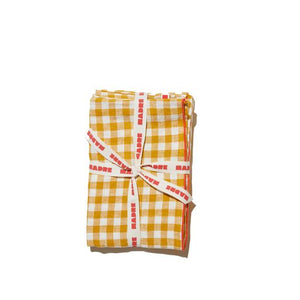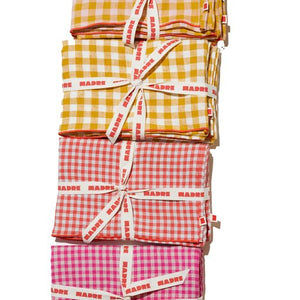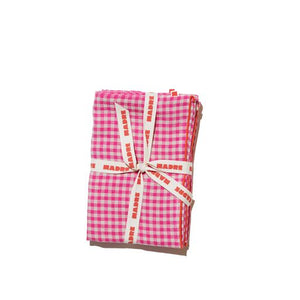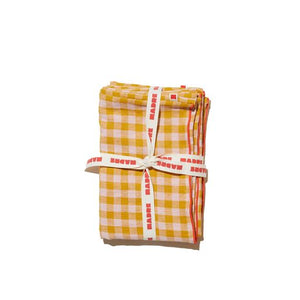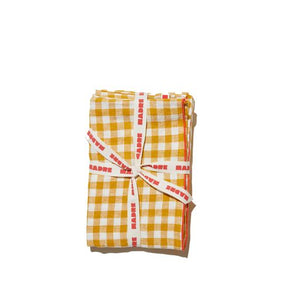 PICNIC PILLOWCASES
Tucking yourself or a loved one into bed can be a prayer in itself. Rest is both a universal delight and a radical act of resistance to the dominant culture. MADRE has big dreams for bedding, and our pillowcases are the first step in that direction.  
So many pillowcases we've tried allow our pillows to escape sometime in the night. MADRE pillowcases are designed with an ample gusset for full pillow enclosure!
Pillowcases come 2 to a set, and are standard size: 26" x 20.5". MADRE's pillowcases are envelope style and showcase our iconic red merrowed edge.
In 2021 we fell hard for gingham, and just had to produce a collection with some of the gorgeous linens we've come across. We began offering them as napkins and tablecloths, now we offer them as pillowcases too!
These picnic colorways can play with your eyes a bit, here's more detail about each color:
Maracuyá (passionfruit) is a sweet 1/2"check of ochre and pale dusty pink.
Mango (mango) is the same ochre and size of check, but on a white background.
Fresa (strawberry) is a tinier, 1/4" check of a strawberry pink with a white background.
Sandía (watermelon) is the same tiny 1/4" check in an orange-y, MADRE red with a very pale blue background.
MADRE's linen is grown in Belgium, and produced in Lithuania. Woven in a mill that runs on green energy, it is also Oeko-Tex certified. Our pillowcases are designed and sewn in our hometown of Portland, OR.