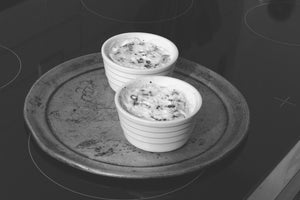 Martina's Baked Eggs for Everyone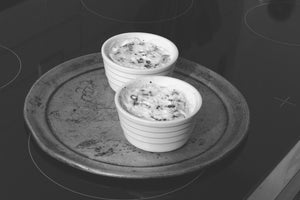 Here is a recipe for simple baked eggs Martina made for us during our visit to her kitchen.
 
Baked Eggs for Everyone 
Heavily butter 1 ramekin per person and pour in 1/2" of heavy cream.

Crack in 2 eggs into each ramekin being careful not to break the yolks (no mixing!) and sprinkle with salt, pepper and herbs of your choosing. I usually go for lots of chives, 1/2 clove of crushed garlic and a pinch of Aleppo pepper per serving, but thyme and shallots are delicious too. Experiment. Get wild, or keep it simple.

Drop a few dollops of goat cheese in or shave a good layer of Parmesan on top.

Place the ramekins on a baking sheet and bake in a preheated oven at 375 degrees until the egg whites are fully set and the top is beginning to brown, roughly 15-20 minutes.

Allow to cool and then dig on in. It's extra delicious with gremolata and roasted mushrooms on top, or a couple dashes of your favorite hot sauce. Sit back and eat slowly savoring every creamy bite. 
¡Gracias Martina!