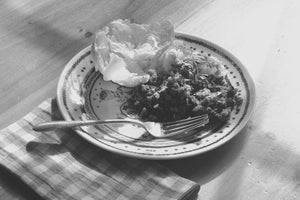 Joanna's Non-Vegetarian Vegetable Soup + Pork Lettuce wraps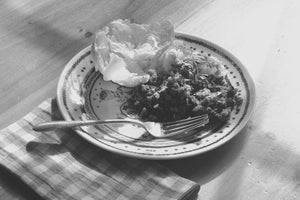 When we visited Joanna for her La Cocina episode, she prepared a warming soup and cooling wraps for us. Both were delicious. Here are the recipes she kindly provided.
 
Non-Vegetarian Vegetable Soup
1 yellow onion, chopped
1 large clove of garlic, chopped

Sautee until soft in a pot then add:
1 small zucchini, chopped (or sliced)
1 medium yellow squash, chopped (or sliced)

Add salt & pepper.

Once barely softened, add 2 cartons (8 cups) of high-quality low-sodium chix broth (or homemade, or veg!) Bring just to a boil and taste.

At this point, you can add some herbs:
A dash of dried oregano and Herbs de Provence
A small handful of Italian parsley.

Let simmer for 20 minutes or so. 
Add 2 medium stalks or celery, chopped and 1/2 head of napa cabbage cut into 1" pieces.

At this point you can add a dollop of butter or some olive oil to top it. At the very end add more Italian parsley, fresh dill and chives.

Serve with shredded parmesan & good fresh bread.


Pork Meatball Lettuce Wraps
New Seasons has "Bahn-Mi" meatballs in the winter, they turn them into sausage in the summer—either works or you can make your own with ginger, garlic and ground pork, fish sauce, salt, pepper.
Sautee the meat until crispy, drain it then pour this sauce over it:
Coconut aminos, chili flakes, lime juice, sesame seeds.
Serve with rice seasoned with salt + lime juice & butter lettuce leaves. 
Top with Bachan's Sauce. 
Serve with a simple salad of cucumber + rice vinegar (or Bianca vinegar), olive oil, salt + pepper, sesame seeds.
¡Gracias Joanna!