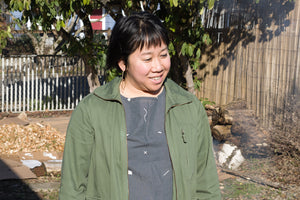 Jane Hashimawari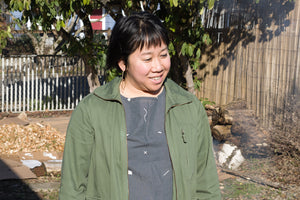 La Cocina showcases women we admire and their kitchens. Part photo essay, part interview, all admiration.
Here is our new episode of La Cocina, a conversation with Jane Hashimawari.
Please describe your kitchen.
Small but mighty! Not very much counter space and storage so I have to get crafty with how I store things. I think it's very much a "cook's" kitchen–lots of gallon and bulk restaurant size oils, vinegars, salt etc. Always blue tape, a sharpie and scissors handy. I tend to have the latest cookbooks I acquired sitting around and a little notebook for scribbling recipes. I like to collect little vintage kitchen knick-knacks but try to keep that at bay in my new kitchen so it doesn't get too cluttered! 
What's your style of cooking? Do you taste as you go? Do you like snacking/drinking while cooking?
I'm definitely an improviser! I've always been the type to utilize what's around in the fridge and pantry and just pump up the food with lots of flavor. There's a term in Japanese, "mottainai" that means "what a waste" that you hear in every Japanese kitchen–nothing goes to waste! I've never been good about throwing anything away. Funny enough, I've never been too successful at snacking and drinking while cooking (aside from eating vegetable cutting board scraps) because I do a lot of tasting as I cook.  I don't like to "muddy" up my taste buds when I'm building flavor because my pet peeve is over salting food. I get so mad at myself when that happens! But don't get me wrong, I love snacks–I just tend to "shovel" snacks when I'm simmering foods because I give myself a little 30 min break.
What is the soundtrack to your cooking?
I tend to listen to a lot of jazz while I cook, especially if I'm in a creative state and wanting to improvise. I feel like there's definitely a parallel to jazz and cooking with technique and improvisation.  I always find it so inspiring.
We all have our tried and true meals. What is your...
"I can't be bothered" meal?
This is kind of embarrassing but we've been on this crunchy taco kick for a bit–especially on days that I get home late from work. I just grab a box of crunchy taco shells, impossible burger meat, taco seasoning and iceberg lettuce. It's easy enough to have all that stuff on hand in the pantry and freezer. Also a bonus that Nathan can make the meal and I don't have to lift a finger. 
"I want to feel comfy" meal?
Japanese curry for sure. Since Nathan is pescatarian, it usually ends up being all vegetables but on occasions when he's not around for it, I love eating it with chunks of chicken stewed in it.
"Nutrition-focused" meal?
It's usually along the lines of a big bowl of beans, barley, wilted kale, pickles and pan roasted mushrooms with a garlic turmeric lemony dressing. It always hits the spot and my gut feels great afterward!
Celebration meal?
Sake steamed clams and dungeness crab with a side of rice, ponzu and butter.
What is your all-time favorite meal, where did you eat it, and with whom?
My most favorite meal would definitely be when I went to Japan with Nathan and our two close friends, Bruce and Annie. We met my brother in a small onsen town and stayed at a traditional ryokan where they served us a multi-course kaiseki meal for dinner. It was like nothing I've ever experienced! So much care, beauty and thoughtfulness went into that meal and it was so delightful for all of us to share the experience together.
Who taught you to cook? What was the first food you ever made? 
I'm so grateful that my mother taught me how to cook–and not only teach me how to cook, but how to love food. Of course there were times when I didn't want to be in the kitchen but I'm glad I was forced to do it.  As early as I can remember, I was always on "korroke" (croquette) breading duty. "Flour, egg, panko–one wet hand, one dry hand."
We love how food can travel through our lineages. Are there things you love to cook that have been passed down from generation to generation?
I think what's amazing is how our palates can be passed down from generation to generation. Even without a recipe, I've found that I'm able to season Japanese soups almost parallel to my mom's palate.  She, of course, gained that knowledge from her experience cooking with her family. 
Food shopping can be a drag or a dream; where is your favorite spot to gather ingredients?
I love shopping for food! (I don't do it when I'm hungry though because I tend to make ZERO decisions. I get overwhelmed with EVERYTHING I want to make and then walk out the door empty handed, lol!) 
I tend to gather all sorts of vegetables from the farmer's market and just grab basics at the store. Uwajimaya out in Beaverton is also one of my favorite places to get my Japanese product staples.
What ingredients/staples do you always have stocked in your pantry and/or fridge?
I always have cans of beans and tuna, furikake, dried wakame (seaweed), mochiko rice flour, sesame seeds, kombu and katsuobushi in my pantry.  If you know me and have seen me cook, I can't go without my Kewpie mayo either. Fridge always has eggs, butter, scallions, mushrooms and miso.  Funny enough I always have to have carrots…such a humble vegetable but I can make a million things with a carrot.
Meal plan or wing it?
I try to make a meal plan on my days off as much as possible but it usually fails me after a couple days. I'd rather load up the fridge with a bunch of produce and seafood and wing it from there. That challenge always excites me about making a meal! Recipe hunting: where do you enjoy finding recipes? Online? Cookbooks? Which are your go to cookbooks?
I love looking for recipe inspiration from my cookbooks. I'm definitely a cookbook collector so I'd easily spend a whole day just flipping through books. My dream vacation would be to go on vacation with all my cookbooks and show up to a fully stocked house and a kitchen that had every type of cooking equipment you could think of!
Recipe hunting: where do you enjoy finding recipes? Online? Cookbooks? Which are your go to cookbooks?
I would say a few of my go-to books for inspiration and reference are Sonoko Sakai's Japanese Home Cooking, Alice Waters' Chez Panisse Vegetables cookbook and The Joy of Cooking. 
What is your most well-loved cooking utensil?
 My mini offset spatula…I can cook and plate anything with that little guy.
Doing the dishes: soothing or annoying? What's your relationship to dish washing?
Both…at the restaurant, I could wash dishes all day. I LOVE organizing the dish tray, lol! But at home, it's like torture. Nathan, my husband, takes on the dishes as a trade-off for me cooking the meals. My mom drilled it into my brain at a young age to clean as you go which I held onto for a long time but I've learned to ease up knowing that Nathan will take care of it at the end of the meal. The one thing I cannot do is start cooking with a sink full of dishes–it drives me crazy!
What is the kitchen task you most dread? 
Cleaning out the fridge. I've gotten much better about doing it once a week but once it hits the two week mark, it's in the fridge for the long haul which I'm so embarrassed to admit!
What has your relationship been with food over time, has it changed? If motherhood is a part of your story, how did becoming a mother impact your relationship with food?
When I was younger, I always thought cooking was a chore that I had no choice but to do it. Food was food. But as I got older I felt so thankful that I had the skills to nourish myself and others around me. When I decided I wanted to become a professional cook, I think it surprised my mom because she never really thought of it as a career. I know it's been said, but cooking is truly a language of love. The foundation of my pop-up is recreating dishes and sharing stories about the food that I had growing up. Without those food memories, there would be no Ippai.
What do you gift to friends who love to cook?
Condiments and spices or even really good olive oil. If it's for someone that doesn't live in town, I love gifting people produce–like the BEST kabocha from my favorite farm (yes, I've flown with a squash in my bag).  If it's someone that likes to cook, they'll appreciate the beauty of a perfect squash!
What books have inspired you most regarding cooking/eating?
I have to admit I'm a cookbook flipper. I usually skim pages and get inspiration from browsing different recipes. With that being said, Sonoko Sakai's book really hit me hard. I couldn't put down the book from the first page and her experiences and memories with cooking really resonated with my relationship and approach to cooking.
Would you rather cook or be cooked for? Do you prefer to host or be a guest?
That's so tough! I like being cooked for but I tend to hover so I think it's best if I cook, haha! I would like to say that being a guest and having someone cook for me would be the way to go but I have a hard time not helping in the kitchen. I think because I grew up having to help my mom cook, it gives me anxiety to step away and allow others to do all the work. BUT, that being said, I don't ever expect guests to help! I'd rather they relax and have snacks!
Whose cooking makes you feel the coziest and most cared for?
There's nothing like my mom's cooking. She's my inspiration and everything she puts on the table has always come from a place of love.
MADRE's tagline is We all eat. We all rest. We've asked a lot about eating, so how do you build rest into your day/week/month?
I grew up in the ocean so anything that involves water has always been so healing and rejuvenating for me. I love swimming in the rivers during the summer or even jumping into a swimming pool to do some laps. Because I have such a deep love for the ocean, we try to get out to the coast at least once a month to recharge.
Here is a recipe for Ojiya (rice porridge) Jane cooked for us.
¡Gracias Jane! 
To find more about Jane:
@ippaipdx
Ippai PDX
Photographs by Naz Sahin:
@nazsahin