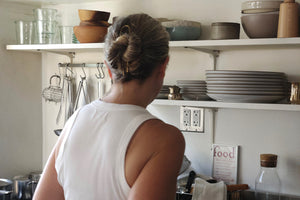 Anne Sheldon-Duplaix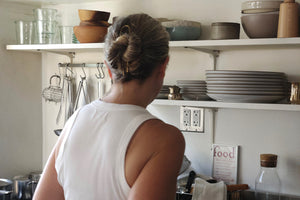 La Cocina showcases women we admire and their kitchens. Part photo essay, part interview, all admiration.
Here is our new episode of La Cocina, a conversation with Anne Sheldon-Duplaix.
Please describe your kitchen.
Our kitchen is part of the living room. It is small and minimal, and sunny. 
We hear the birds, the bells of the church nearby - something nice when you live in Manhattan. 
There is a music school right across from us. We can hear concert rehearsals, children singing… 
Last morning, I made breakfast while two pianists were rehearsing Rhapsody in Blue. 
We keep the windows open, even in winter, just to listen. 
 
The nice thing about having a kitchen in the living room is that conversations keep happening even when you're cooking. We're not missing any of the fun when friends are over. It is fluid. The constraint is that the space is small and visible, which is an incentive to keep it neat and tidy. 

A good thing, but a constant practice.
What is your all-time favorite meal, where did you eat it, and with whom?
Hard to pick one. 
I remember a meal at Estela, with Nicolas - my husband - and his parents. 
I'm rarely moved by the food to the point that I need to stop being part of the conversation to fully take in what is happening on my palate. That night, it was the case, every few minutes. 

Also, as a child, I loved the dinners with my parents and their friends - who were book publishers, writers and artists. It was so joyful, and I got to see my parents under a different light, more carefree and fun around their friends.  

The conversations happening around the table were so interesting, and enticing. 
I didn't necessarily understand all that was said at the time, but the bits and pieces I would catch sparked my curiosity and let me glimpse into entire universes worth exploring.
What is your most well-loved cooking utensil?
It's a folding knife, an Opinel. Rather than having a collection of knives, I chose to only use one knife in the kitchen and get to know it really well. It's a pleasure to use the same tool every day. Your fingers get so familiar with it.
What has your relationship been with food over time, has it changed? If motherhood is a part of your story, how did becoming a mother impact your relationship with food?
I grew up in Paris but I'm naturally attracted to the food you find in the South of France, and along the Mediterranean coasts. I started eating less and less meat in my twenties, then less and less fish, and now I rarely eat any animals. The more vegetables or fruit I eat, the more vibrant I feel. I seek to simplify, and get closer to the produce, with minimal intervention. I would love to develop an intimate and almost intuitive knowledge of plants and herbs, and how to assemble them together to make delicious and health-giving dishes. My daughter likes to eat animals though, and sweet things. So it is a constant balance to find... respecting her needs and wants, while inviting her to put more plants or fruits on her plate.
Who would be on your imaginary dinner party guest list?
Around a long table in a garden, I would gather our friends living in Europe and our friends living in the US so they finally could meet.
Also my paternal grand-parents, whom I wish I had known better.
Jean Cocteau would be there as well, and Diana Vreeland, Alexandra David-Néel, and also Boris Vian.
On a warm evening of June, we would all sit together under a giant catalpa, among high dancing grass.
Whose cooking makes you feel the coziest and most cared for?
My mother's pies were scrumptious. Pear pies, apple pies or cherry clafoutis, with fruits from the garden. First there was the exquisite smell coming from the oven...the anticipation. All dinner long, I knew the dessert was coming, and finally we were biting into that warm and soft deliciousness and the caramelized fruits that would slowly explode in your mouth.
Whenever Nicolas prepares a meal for me, he tries to pick the kind of food I really like, which is not necessarily what he would choose otherwise. I'm really moved by that.
Overall, when someone takes pleasure in preparing a dish, puts love and joy into their cooking, you can really feel it, no? And it has little to do with their skill level or the elaborateness of the dish. A meal prepared with love fills your belly with a joyful energy, which fuels you to reverberate that love.

MADRE's tagline is We all eat. We all rest. We've asked a lot about eating, so how do you build rest into your day/week/month? 
Doing yoga is my favorite way to rest, reset and restore. Time in nature, time alone also. 
On cold winter days, I like to read a book in a hot bath. I sometimes fall asleep, and the book takes a swim. 
Anne's Almost Niçoise Salad
You will need potatoes (little ones like fingerling are nice), green beans (thin ones), olives, basil, eggs, tomatoes, avocados, a yellow pepper for color, lettuce, and the zest of one lemon. 

Start by boiling the eggs, green beans and potatoes. I like the green beans to be slightly undercooked and crisp. As soon as you start to smell them and see the green turn vibrant in the pot, they're ready. 

In a shallow salad bowl, you can lay down a bed of cut lettuce leaves, then assemble slices of pepper, tomatoes, avocado, olives on top of it. When the cooked ingredients have cooled down a bit, add the potatoes and eggs cut in halves, and the green beans. Finish with basil leaves and lemon zest. 

It's nice to eat it right away, when the potatoes are still warm. You get a nice contrast of fresh and crisp, and soft and warm. 

I usually serve it with a minimal dressing on the side: strong dijon mustard, apple cider vinegar and olive oil. 


¡Gracias Anne! 
To find more about Anne:
@l_editeur
Photographs by Naz Sahin
@nazsahin