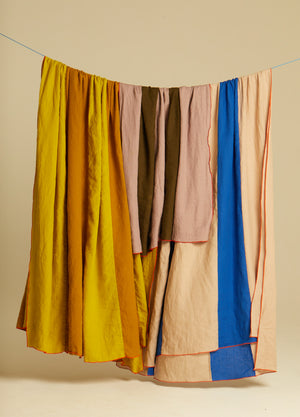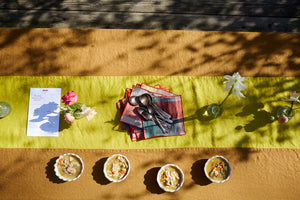 Cirque Tablecloth | Avocado con Kabocha
Our CIRQUE tablecloths are inspired by old-world circus tents and European broad stripe awnings. We love the way they harken of a bygone era and anticipate them bringing delight and whimsy to your tablescapes. 
This product is an inspired use of our long swaths of offcut from producing our napkins. We have always known the inspiration would strike to make use of these wonderful stripes and this feels like just the way!
Cirque tablecloths are truly one of a kind so if you see one you love, don't hesitate to snatch it up! We will continue to bring them to life as we have the material to do so but as we strive to produce products more efficiently we are starting to see big decreases in "waste." 
This tablecloth measures: 110" x 55"